Many parents think that sexting involves 2 people sending either risqué or explicit text messages to each other.
However, sexting more typically involves people taking;
Selfie photos/videos of themselves either in their underwear or in the nude.  Lots of these images exist on the internet where teenagers take the shot facing the bathroom mirror and these are referred to as either nude selfies, mirror selfies or underwear shots.
Photos/videos of their breasts or genitals.
These photos are then typically sent to the teen's boyfriend or girlfriend and usually sent either by text message or via a messaging service such as Kik messenger, Snapchat, or via Instagram Direct message or Vine direct message.
 Why do kids sext?
We were all young once and we all did things we knew we shouldn't do.  It might seem obvious to us as parents why taking and sharing explicit images is full of risk but teenagers don't always see the risk.  The typical reasons why teens engage in this are;
Fun – Some teens think that taking and sending a selfie wearing underwear in front of a mirror is just fun and that it's the same as wearing a bikini on the beach.
Peer pressure – Wanting to fit in with a group of peers and it seems like they are all doing it.
Reputation – Afraid of being seen by others  as  frigid and not very sexy.
Relationship pressure – Sometimes kids just give in to someone who is persistently asking them to send a photo.  Quite often they are made to feel guilty if they don't do what is being asked.
A form of flirting – Sometimes people send images as a form of flirting or trying to impress someone they have a crush on.
In Love – Teens often feel that they are in love and 100% trust their boyfriend/girlfriend with the image.
A sign of commitment – Quite often, boys and girls in a steady relationship send images as a sign of their commitment to one another.
A racy joke – Some teens send explicit images just to be shocking or to be funny.
Desensitised by pornography – It is becoming normal for teenagers to become exposed to pornography and this desensitises them with the result that explicit images become "normal" and requesting them becomes normal.
How prevalent is it?
Studies done in Ireland, the UK and the US indicate that a significant percentage (60%) of teenagers are being asked to take nude or sexual images of themselves with many going on to take images or videos of themselves (40%) and  then between 20% – 25% actually sending the images on.
In 2013, The NSPCC's head, Peter Wanless, said "sexting" was getting much more common. "Sexting is increasingly a feature of adolescent relationships," he told BBC Newsnight. "It is almost becoming the norm that a young person in a relationship should share an explicit image of themselves," he said. (source BBC news).
Irish Survey
According to Dr Maureen Griffin, who has presented about cyber safety in over 300 Irish schools, "As part of independent research conducted for a number of secondary schools in Ireland, 1 in 4 students admitted to sending or receiving sexts.  Although the practice was most common amongst 3rd year students, it was observed from students in 1st year to Leaving Certificate. "  Source www.thejournal.ie.
United Kingdom Survey
A 2013 survey by the NSPCC in the UK found that
60% of teenagers say they have been asked for sexual images or videos,
40% said they had created a sexual image or video,
25% said they had sent one to someone else by text.
United States Survey in Texas:
A 2013 study in Texas found that
39% of all teens say they have sent sexually suggestive texts.
20% admit to sending nude or semi-nude pictures or videos.
Almost half (48%) of teens say they have received sexting messages.
These studies do not mean that your child is involved in sexting or is likely to be.  If 1 in 5 teens are doing something it is not an epidemic.  However, the studies do indicate that it is a prevalent part of their environment (60% get asked to send a sexual image) and it is a risk that they are likely to become exposed to in their teenage years.
Therefore, it is vital that your child fully understands the dangers involved in terms of what can go wrong and the consequences for them.
What tools do kids typically use when sexting?
There isn't one specific tool or site that teens use for sexting.  Instead, it occurs  in their everyday interaction when using text messaging or mobile messaging apps.  Here is a list of the more popular apps and networks;
Text Message service on your child's phone
Snapchat
Kik Messenger
Instagram (Direct messages)
Vine (Direct messages)
However, sometimes explicit images get forwarded on by the recipient via  text message or email to other friends at school and once this happens they sometimes end up being distributed via Twitter or Facebook.
What are the dangers and risks?
There are many dangers and risks associated with sending or receiving sexts that you and your child need to be aware of.
If your child sends an explicit image of himself/herself …
The recipient can decide to forward the image to other people who in turn forward it on.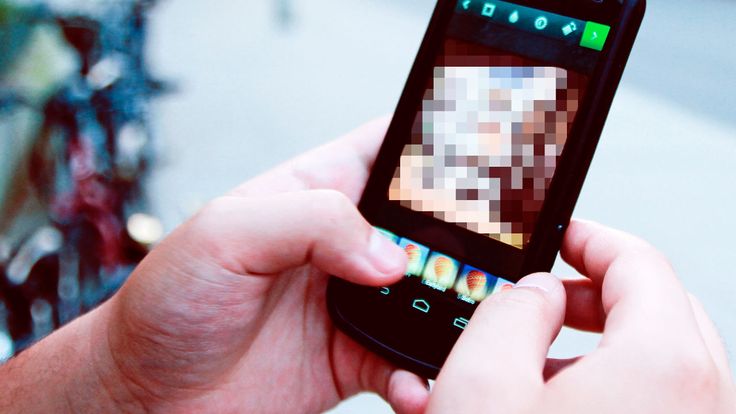 This can happen when the relationship ends and the recipient circulates it either out of revenge or for bravado.
It can also happen if the recipient is someone not to be trusted and simply decides to do it to impress his/her friends.
Quite often the image that circulates around school then gets posted on social media (Snapchat, Twitter ) where it circulates much further and is seen by thousands of people.  Once this happens it is impossible to control the image as it gets retweeted on Twittter and can eventually end up being posted on multiple porn sites under categories such as "barely legal" or "Ex girlfriends" or "Amateur nude selfies".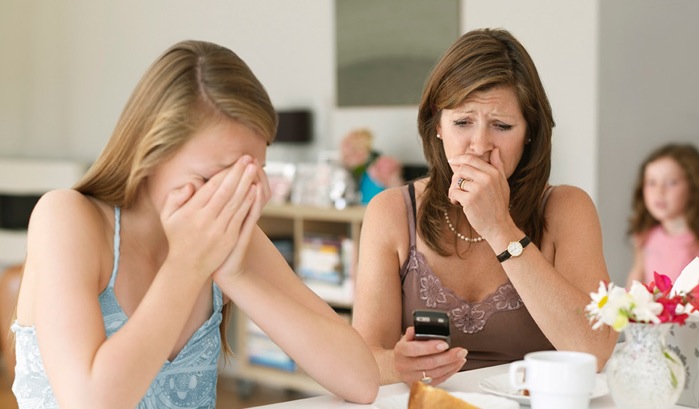 The short term consequences of this can include
Humiliation at school.
A unwanted reputation at school.
Suspension from school.
Loss of friends at school.
Being bullied and taunted at school.
This educational video called "Megan's Story" depicts how sexting can impact a teenage girl.
If this happens, the health risks for your child are serious, especially as the image keeps reappearing in social media. There is no way to undo what has been done and this can lead to;
Depression and self harm.
In extreme circumstance, suicide.
Do these short term consequences seem far fetched?
Do explicit "sexting" images really end up on social media?
Unfortunately the internet is full of images that were probably sent to a teenage partner in confidence and then got forwarded on, eventually becoming distributed on social media.
Twitter and Tumblr are awash with these types of images – a simple search on twitter for #nudeselfie brings up hundreds of examples far more graphic than the example below and in most cases the girl's face is visible.
Do teens end up becoming humiliated and committing suicide?
No. Most teens whose photos are forwarded do not commit suicide.
However, it is a real risk and there are plenty of high profile examples of teens sending a sext which got forwarded on and then widely distributed – leading to the child suffering humiliation, depression and leading to suicide. We will cover some examples shortly.
The long term consequences of this can include
Permanent damage to your child's online reputation whereby when their name is Googled, the explicit images appear in the results.
If this happens, the social risks for your child in the future include;
Damaged college admission prospects.
Damaged job prospects.
2. If your child receives and forwards an explicit image  …
Legal consequences
Sending explicit images of children under the age of  18 years of age is illegal.
Teens who send explicit images of underage children can be convicted of child pornography.
If your child was convicted of child pornography, he or she would be placed on a registered sex offender's list.
Does this ever happen?
As the emotional consequences of sexting gone wrong have become more common, there have been more instances of people being convicted.
An example is Phillip Alpert, a Florida teen, who, after he split up with his girlfriend, sent nude photos she had taken of herself and had sent to him when they were dating to 70 people.  Alpert was arrested, convicted and given probation for distributing child pornography.  He is now a registered sex offender.