It is estimated that there are over 4 million pornography sites, that 25% of searches on search engines are pornography related, 30% of all internet traffic is pornography and the percentage of internet users who view pornography is estimated at 42%.  (source: Internet filter review)
If that last statistic of 42% seems high to you, a survey by Cosmopolitan Magazine of 4,000 men found that 30% watched porn daily and  71% of men 18-34 watch it at least once a month.  In a 2014 survey by the Oxford Union in the UK, 71.8% of all students said they view porn; 91% of men vs 51% of women.
In February 9, 2014 the Irish Mirror reported that Ireland's internet porn use has increased 77% since 2010.
The reality is that it is very easy for our kids to be exposed to it. However, if you want to block pornography it is becoming increasingly difficult and complicated. It is no longer as simple as installing some anti porn software on your PC or installing a porn filter on your PC because kids now access the internet predominantly on mobile devices and also via gaming consoles.
Are kids viewing it?
As parents we hope that our kids are not being exposed to it but here is what surveys report;
A 2014 survey of youth in the UK showed that 50% of 11-14 year olds had viewed porn.
Four out of ten of these admitted that it affected their relationships with others. (Source UK Daily Mail Online, January 19, 2014 )
A 2013 survey of 800 young people by IOL Lifestyle  found that most teenage boys view it 2-3 times per week, on their phone or bedroom computer.
2/3 of those between 11 and 13 had viewed porn.
The Daily Mail in the UK reported in 2012 that one-in-three ten-year-olds have stumbled on pornography online, and that the largest group of internet pornography consumers are aged 12 to 17.
What about Irish kids?
A survey of Irish teenagers in 2011 found that;
57% of teenagers in Ireland use the internet to find out information about sex and a high number believe that they can be reliably informed by looking at pornography.
Nearly 80% of boys and 40% of girls had watched porn, according to the report, while 21% of teenagers said they used it to teach themselves about sex and more than one-third (36%) believed that what they saw in pornography was accurate and educational. (Source:  Irish Independent  and the Unicef report).
How do they become exposed to it?
The IOL lifestyle survey in the UK found that of the two thirds  of 11-13 year olds who had viewed porn, 83% had stumbled upon it accidentally. The Scotsman newspaper reported on April 3rd 2014 that in a survey of 3,000 families, kids as young as 4 had stumbled across porn online.  That is because it is very easy to come across it.
Ways kids stumble upon it
Innocent searches on search engines.  Kids can innocently search using terms like 'big girls toys 'which leads to adult content.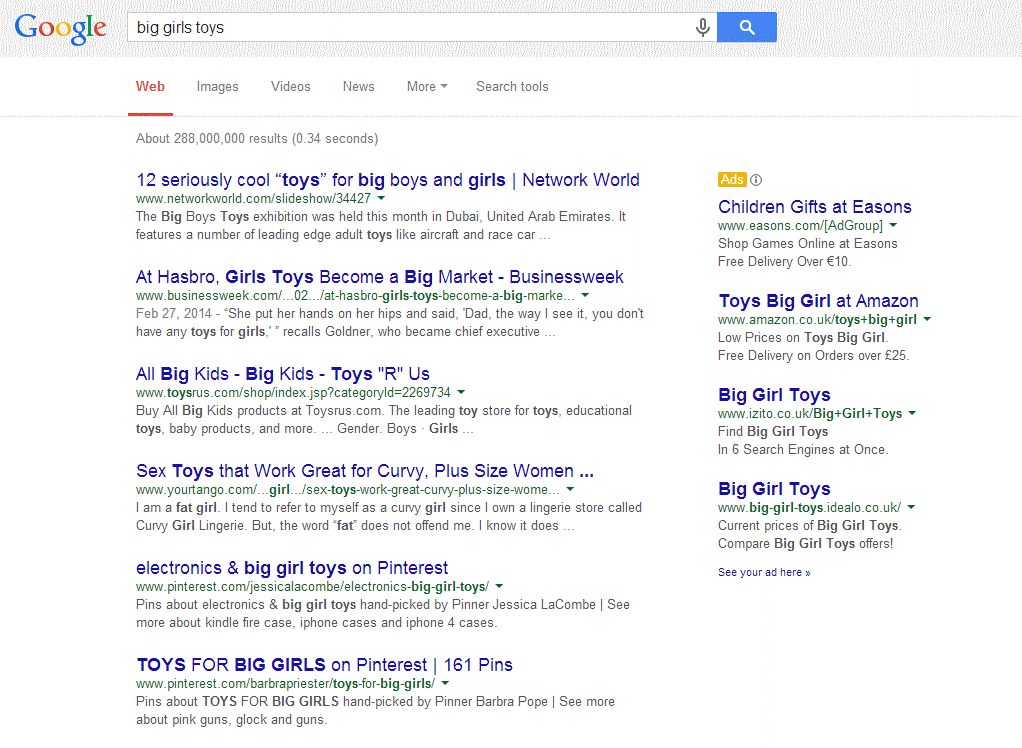 Misspelling when typing a web addresses.  Companies buy variations of well known brand names so that when people type them incorrectly they will land on their site.  It is called "typo squatting" and their goal is typically to generate money on advertising click-throughs.  They target brands ranging from travel to games and they also target children's sites.  Domain names that are commonly targeted include webkinz.com, clubpenguin.com and neopets.com (Source –   McAfee)
Children's brand names.  Children's brand names are sometimes used in porn movies. For example if you search for My Little pony and Porn or Pokemon and Porn you will find lots of links to hard core porn content.  The screenshot below shows that there are porn results in Google relating to My Little Pony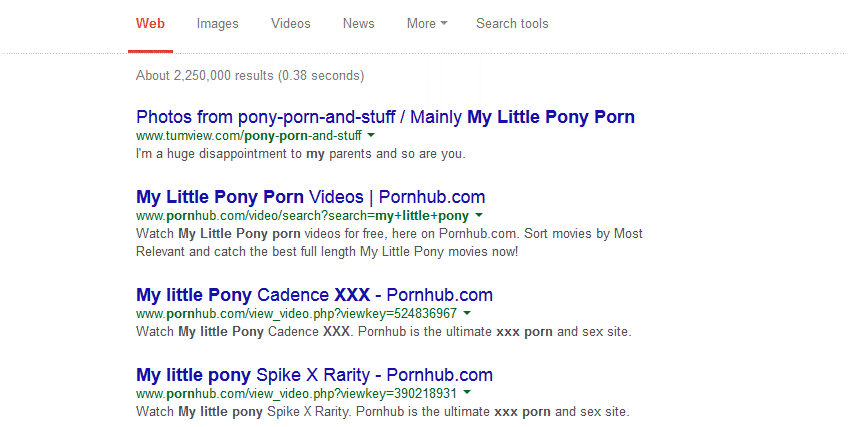 Email Spam.  If your child has an email account they are likely to receive spam emails, with relatively innocuous subject lines which contain links to porn sites.
Social media.  If your child uses Twitter or Tumblr it is easy for them to receive updates into their news feed that contains porn images and videos e.g.  If the people your child is following, many of whom might be strangers, decide to share links to this content.  Porn is freely available on these social networks.  If you are in any doubt, simply login to Twitter and search for "sex" and you will see a search result like the one below.  All of these lead to graphic images/videos.  If your teen is following someone on Twitter who decides to share one of these tweets then it will go into your child's news feed even though he/she did not go looking for it.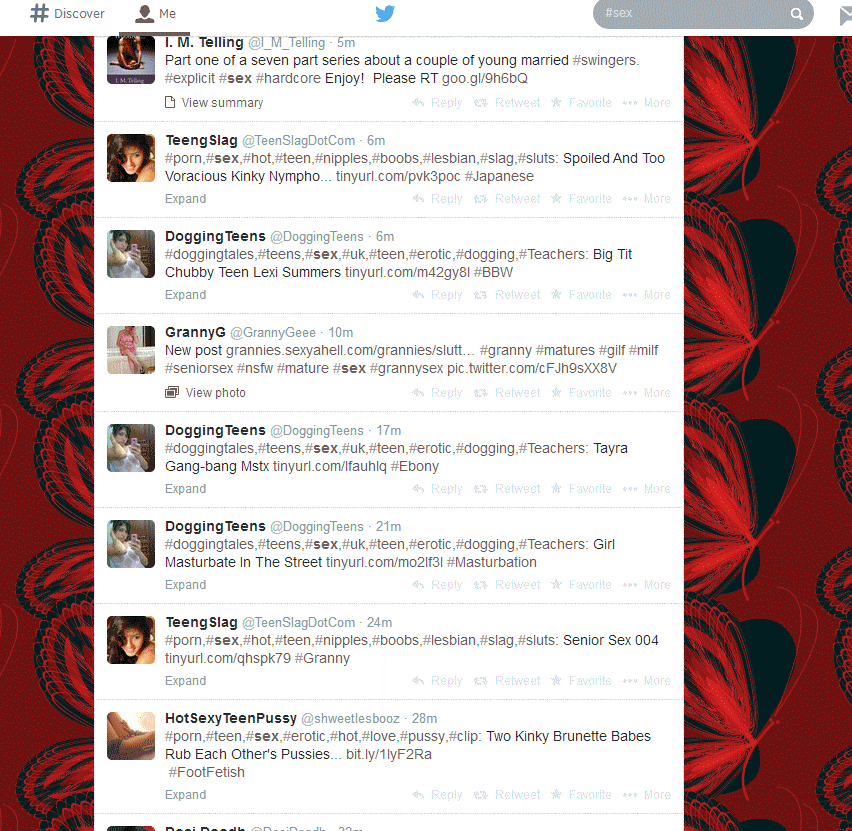 Messaging Apps.  If your child uses messaging apps (Kik messenger, Whats app, Skype)  they can receive unsolicited messages from spammers which contain links to adult websites.  They could also receive messages from friends which contain graphic images or links to websites.
Text Messages.  If your child has a mobile phone it is very possible that they could receive a text message from a friend which contains a photo or a link to a porn website.  It is common for teens to share links.
YouTube.  Kids watching cartoons can be exposed to explicit content that has been deliberately inserted into the middle of the cartoon by pranksters.  Also, when a kid watches a video, the "related" videos can show links to content that is very unsuitable. Also, many parents don't realise that there are lots of videos on YouTube with explicit titles and thumbnails.
Ways kids find it deliberately
Search Engines  – Searching for sex related terms on Home PC, Laptop,  Tablet or Mobile.   
Directly entering the website url – On Home PC, Laptop,  tablet or Mobile.   
Social media– Searching for it on Twitter or Tumblr and choosing to follow porn related accounts.
What devices are being used?
In the United States,  52% of pornography is accessed on smartphones; 10% on tablets.  Worldwide, 51% of porn is accessed on desktop computers; 49% on smartphones and tablets. (Source – The Inquisitr, December 26, 2013)
This means that when you are considering how to prevent your child from accessing this content you need to avoid focusing on just the home PC.  You need to also focus on their mobile devices such as smartphone, tablet, iPod, Xbox.
What exactly are they seeing?
If you have never been on one of the major sites you might not appreciate what would face your child. These are not websites with image galleries of topless women that you flick through. Think of a site that looks like YouTube but instead you immediately see thumbnails of very graphic hardcore videos and you can search through millions of videos. They are totally free to view.  You can browse by 40-50 categories, ranging from the tame to the extreme.  These sites work perfectly on mobile and ipad.
On these sites kids are exposed to various levels of content.
Soft core.  This is similar to the top shelf magazine such as Playboy and Hustler.  There are still sites that have this content but it is no longer mainstream and isn't what is meant when people refer to "porn".
Home made/User generated.  The advent of the digital cameras has seen an explosion of user generated porn with sites now featuring a significant amount of home-made movies. These largely involve adults but there are also a lot of young couples. These videos typically get uploaded to porn sites by hackers who accessed the files on someone's computer or by a disgruntled ex-partner (this is termed "Revenge Porn" ). There is now an entire genre of porn called "ex Girlfriend porn" and "revenge porn".
Professional Hard core.  These videos are the norm, not the exception, and it is well documented that since the early 2000's, pornography has become far more graphic and hardcore.  If you watched a porn movie 20 years ago and you think they are the same today  – they are not.
Professional Extreme. There is an increase in extreme videos which feature simulated drugging of women and then simulated raping of them, gang rape etc.
What dangers should you be aware of as a parent?
Impact on young children
Shock, distress and confusion over what they have seen.
How it can impact teen boys
Unrealistic impression of what real sex is like and what their partner should be doing

That women are there to be used and dominated.
That sex is aggressive.

This can seriously damage a teen's ability to relate to the opposite sex.

Unrealistic impression of what a female's body shape should look like.

That women should look like and act like a porn star.

Becoming desensitized and addicted to porn

Studies have found that if a teenage boys watches a lot of porn the boy becomes desensitised with the result that he seeks out more bizarre or unusual porn in order to achieve the same initial effect.  This can lead to addiction.
This News report gives a good overview of teens' access to adult content and the risk of addiction
The Independent.ie ran an article in July 2014 covering teenage porn addiction and reported  a study by the University of East Anglia in July 2014.   A fifth of boys aged between 16 and 20 told surveyors they were "dependent on porn as a stimulant for real sex".  Most said they had lost relationships, neglected partners, and cut down on their social lives as a result of their behavioural addiction.  Amanda Roberts, a psychology lecturer at the university who created the study, said: "About a quarter of young boys have tried to stop using it and can't, which means there's definitely problematic porn use within this group.  It's because there's more and more exposure of porn and it's excessive; it's everywhere."
She said the results were "worrying" and spoke about the effects it is having on the young boys: "I think it's the really extreme hard-core material that is going to be quite damaging to children.  It is also damaging to their self-esteem, because they don't look like that, and they then expect girls to look and act like porn stars.  They feel inadequate, and most said they felt confused and angry because they couldn't stop."
Professor Matt Field, adolescent addiction psychologist at University of Liverpool, added: "Adolescents are particularly vulnerable to developing addictions and that's because of how their brains are developing."  He explained that humans have a 'reward centre' in the brain which develops quickly in adolescents and makes them sensitive to pleasure-inducing temptations such as porn.
But the part of the brain that is responsible for self-control does not mature until an adult is in their mid-twenties, making it harder for adolescents to suppress their urges.
Ms Roberts added: "To become an addict, you have to have a propensity to addiction first but they are all so exposed to it, which makes it so much worse.  (Source:  Irish Independent  )
How it can impact teen girls
An article in the Daily telegraph reported a study which found that children who regularly viewed pornography were more likely to have underage sex, develop "casual and hedonistic" attitudes and indulge in sexting . (Source: Daily Telegraph )
The pressure to be like  "Rihanna"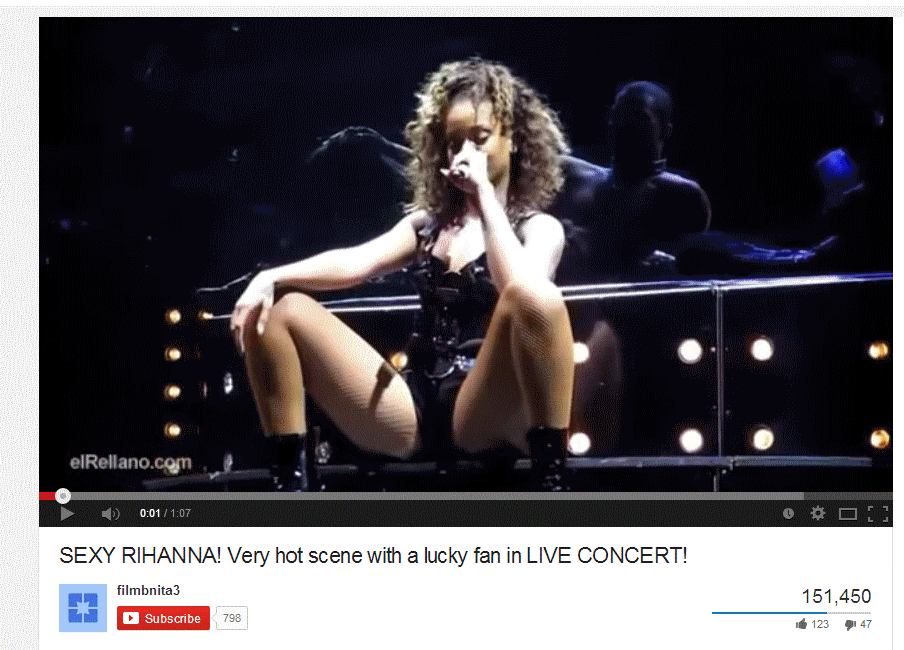 Girls are growing up in an environment where they are surrounded by sexual imagery.  In an article in the Independent.ie Allison Keating, a behavioural expert says
"Young girls are now encouraged to be sexually aggressive and almost act like the predators in relationships.  Singers like Rihanna desensitise kids to sex as young as 11.  There is pressure on girls to dress provocatively at a younger age, while boys are encouraged to treat them like sex objects."
Along with this pressure, it is worth considering some of the findings from the UNICEF study of Irish teens in 2011.
40% of teenage girls had watched porn.
 More than one-third (36%) believed that what they saw in pornography was accurate and educational.
The report found that girls are more likely than boys to have lost their virginity by their mid-teens; 22% of Irish girls who have lost their virginity had sex at the age of 15 or younger, with the figure for boys at 19%.
This ABC news report gives an insight into how common it is for teen girls to view porn.
Exposure to porn makes sexting "normal".
In 2013, The NSPCC's head, Peter Wanless, said "sexting" was getting much more common.  "Sexting is increasingly a feature of adolescent relationships," he told BBC Newsnight.  "It is almost becoming the norm that a young person in a relationship should share an explicit image of themselves," he said. (source BBC news)
Are kids really sexting?
A 2013 survey by the NSPCC in the UK found that;
60% of teenagers say they have been asked for sexual images or videos,
40% said they had created a sexual image or video
25% said they had sent one to someone else by text.
According to Dr Maureen Griffin, who has presented about cybersafety in over 300 Irish schools,  "As part of independent research conducted for a number of secondary schools in Ireland, 1 in 4 students admitted to sending or receiving sexts.  Although the practice was most common amongst 3rd year students, it was observed from students in 1st year to Leaving Certificate."  Source www.thejournal.ie
To understand more about this topic read our Digital Parenting Guide to Sexting and the dangers it poses to teenagers.
What can you do to help protect your child? How do you block pornography on all devices?
As a parent it is best to approach this in terms of:-
What needs to be done to restrict access as best you can.
What should you consider saying to your kids to explain and advise about pornography.
Improve your understanding of the devices and networks that your kids are using.  If you don't understand what Twitter or Tumblr is you won't be able to understand what they are exposed to every day.
1. What needs to be done to block pornography access as best you can?
If you are reading this and wondering what you can do to  block pornography then you are not in the minority.  It is a very common concern amongst parents and most do not know what to do.
A survey of 3000 UK families found  74% of parents surveyed were unaware of options to filter porn from their computers, smart phones, or tablets. The Scotsman, April 3, 2014
The range of devices that a child uses to access the internet means that it is far more difficult  for parents to figure out what they need to do to restrict access on the PC, laptop, ipod, mobile, DSi, Xbox and tablet. And also how do you restrict your child's access on the mobile when they are outside of the house?
 Here is a step-by-step guide to restricting your child's access to explicit adult content.
 1. Restrict access on the home broadband network
Install a content filter (porn filter) which will cover every internet device in your home including PC, laptop, tablet, mobile, ipod, DSi, Xbox.

Then setup "Safe search" on Google and Bing to prevent adult search results, especially adult image search results.

Then setup "Safe search" on YouTube.
 2. Set rules about internet access in the home
The laptop, PC and tablet need to be used in main areas of the house where you can keep an eye on what is being viewed.
No tablets or mobile phones are allowed in the bedroom when your child goes to bed.
 3. Restrict access on the mobile device
Set up restrictions on Apple devices.
Set up restrictions on Android devices.
Install parental controls on your child's android phone.
Block adult search results in Google on your child's mobile.
However, when you do this be aware that your child can still access explicit content on:
Social networks such as Twitter and Tumblr.  They can follow accounts that are circulating porn and it then comes into their news feed. Therefore, you should consider whether you want your child to access those apps on their smartphone and if not, you can restrict access to those apps.
Messaging apps such as Snapchat, Instagram Direct Message, Vine Direct Message.  It is almost impossible to stop your child receiving messages from friends which contain images and videos but it is advisable that you have a good understanding of how these apps work.
 2. What should you consider saying to your kids to explain and advise about pornography?
If you do everything possible to restrict your child's access you can feel reassured that they won't stumble upon this type of content at home and will find it very difficult to deliberately find it on home devices or their mobile.  However, they will see it – whether it is via a text message from a friend or on a friend's phone that is not restricted.
So you need to consider having a conversation about what they saw or might see.  Here is a very good article in the New York Times that gives examples of how parents have broached this topic
Some pointers include:
Being calm, understanding and approachable – be open to discussing this, however uncomfortable you might feel.

Stress that porn is not a reflection of how relationships really are and how two people make love – porn is extreme acting.

Stress that relationships they will have with teenage girls/boys will not be like that – that relationships are about mutual respect.

Stress that pornography can be addictive and should be avoided.
 3. Improve your understanding of the devices and networks that your kids are using.
It is almost impossible to parent and provide guidance and advice when your kids know everything about their devices, social networks and messaging apps and you know very little or nothing.
If you found this parents guide useful and you think other parents would benefit from it why not share it on Facebook, Twitter, Linkedin  or via email.