Ask.fm is a question and answer social network site where anyone can ask you a question. It is also available as a mobile app and users can easily connect their ask.fm profile with Facebook and Twitter so that they can connect with their friends.  Popular with Irish teens and tweens it has over 60 million users worldwide.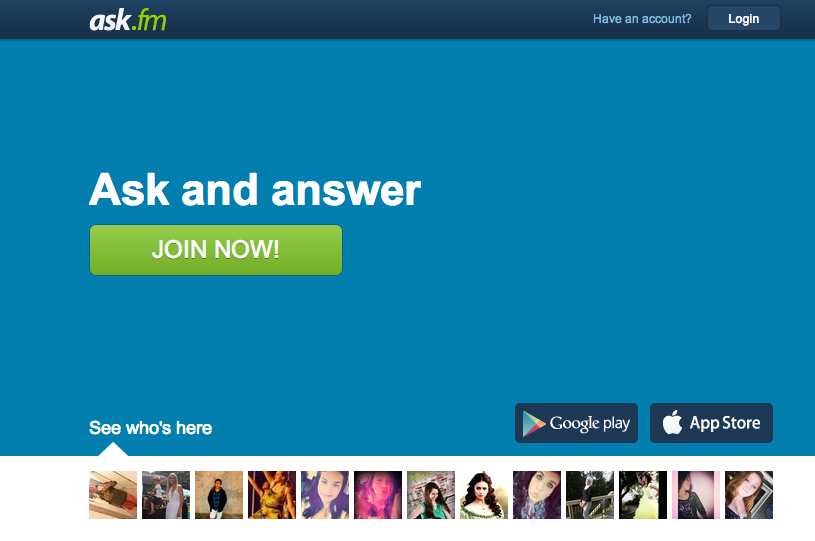 Anybody can browse your profile and see the questions you were asked and the answers you gave. You can also choose to have your questions and answers appear in a stream that is available to everyone worldwide to see.  The questions are often innocent bordering on the banal such as "what annoys you the most?" "What is your favourite movie?". People can ask you questions either anonymously or with a username showing
However, ask.fm contains a lot of questions that are sexual, abusive and bullying and the site has been linked to a number of teen suicides in Ireland, the UK and the States. It is definitely a site that you should be aware of and you need to weigh up whether your child should be using it.
In this parents guide to ask.fm we will explain why kids like using it, what dangers you need to be aware of and how to advise and protect your child.
What age is it suitable for?
Ask.fm's Terms of Service state, "Physical persons must be 13 years or older to use this service."  However, when signing up you simply need to enter a username, email address and enter a date of birth. Lots of kids under 13 simply make one up)
If your child is under 13 and has created an account you should definitely consider deactivating the account as it is not suitable for them.
Why Do Kids like using it?
Tweens and Teens enjoy using it because;
It's a fun way to pass the time answering questions and chatting.
Kids love the anonymity (if they choose to remain anonymous). They can ask personal or risque questions on someone's profile without revealing who they are.
It's an adult free zone where they are unsupervised. Their parents don't understand it and monitor it,  unlike Facebook.
Some kids enjoy using it because it's a chance to be mean to someone without them knowing that its you.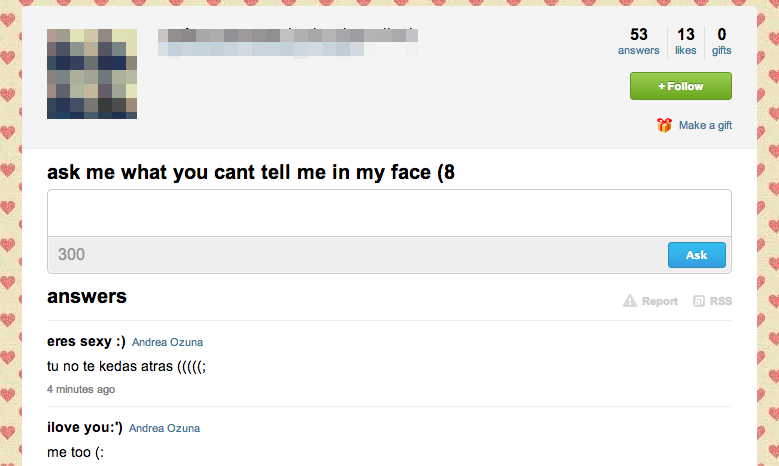 However, there are some reports that while kids are keen to try it, the novelty can soon wear off. A quick browse through random profiles shows that the majority of kids are not highly active on it.
What dangers do parents need to be aware of?
There are two main dangers that parents should be aware of.
1. There have been 9 teen suicides linked to ask.fm because of the anonymous bullying.
2. Many of the questions that are asked of 13-14 year olds are quite sexual, posted by anonymous strangers.
It has led to teen suicides in Ireland and UK
Many teens who are bullied on ask.fm feel that they know the people who are tormenting them. They might be in the same class or even "friends" with them on Facebook. But the anonymity on ask.fm means that the victim is never sure who has turned against them which only adds to the torment.
In the past few years there have been 9 teenage suicides linked to ask.fm including Ciara Pugsley (15) , Erin Gallagher (13), Hannah Smith (14) and Josh Unsworth (15) .
Ciara Pugsley from Leitrim  was just 15 when she took her life in 2013 after being bullied on Ask.fm . Among the messages Ciara received were that she was depressed to attract attention, that she was fat, and that she had no respect for herself. Her  classmates only became aware of what happened after the 15-year-old went missing and was later found without a suicide note.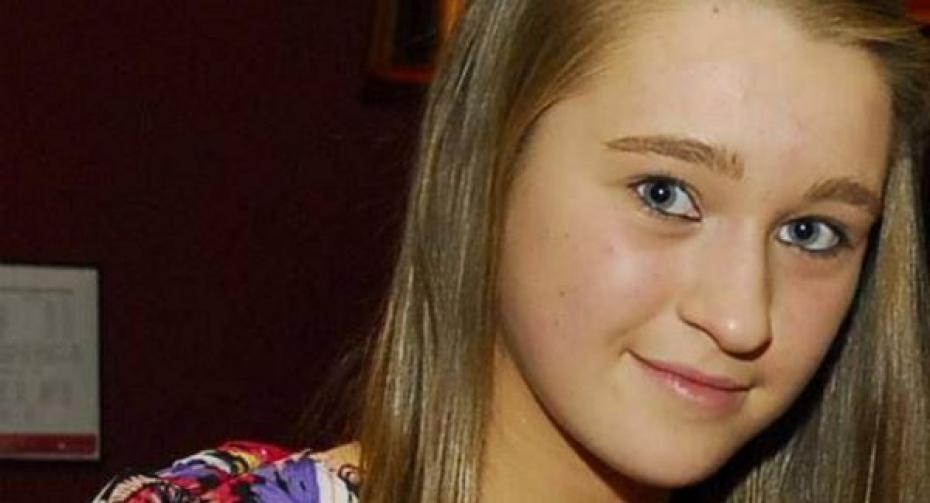 Erin Gallagher from Donegal was just 13 when she took her life 5 weeks after Ciara Pugley. She had told her friends that she was considering killing herself after being subjected to a bullying campaign on ask.fm. In her suicide note she made reference to ask.fm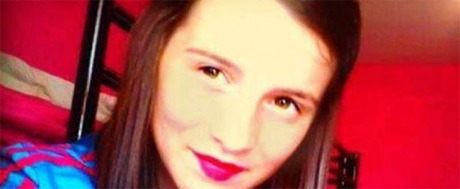 Hannah Smith, aged 14, from Leicestershire  was found hanged in her bedroom after being bullied for months on ask.fm even though her dad had tried to prevent her from using it. "I have just seen the abuse my daughter got from people on Ask.fm and the fact that these people can be anonymous is wrong," Smith, 45, wrote on his Facebook page.
Below are some of the comments that made to Hannah on her Ask.fm profile (source: Daily Mirror )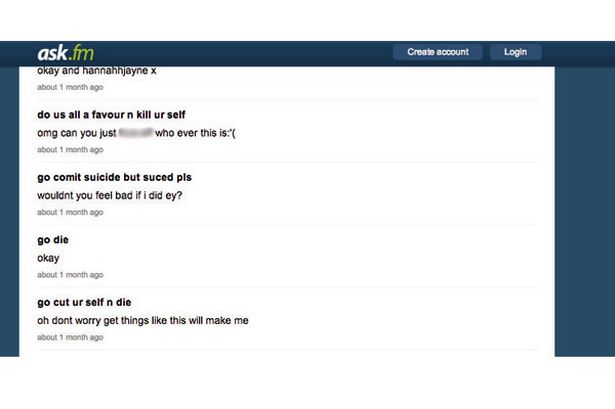 Other anonymous comments that were made to Hannah included  "cow", "fat slag" "ugly f**k" and "self harmin c**t". One user said she should "go die, evry1 wuld be happy", Another recommended: "do us all a favour n kill ur self". Someone told her "no1 would care if ya died u cretin".
In April 2013, Josh Unsworth, 15, from Lancashire committed suicide after months of bullying on ask.fm . Some of the disgusting messages posted to Josh included'You really are a freak', 'no one likes you' and 'you deserve sick things to happen to you'. They called him a 'f****** n**head' and added: 'Your (sic) just like a dog. No one likes you. Honestly no one cares for you even your parents don't want you, there (sic) gunna put you in care.' (Source: Daily Mail)
Why is this happening?
These tragic suicides are undoubtedly a by product of the following inherent dangers in the site.
1. The ability to post anonymously brings out the worst in kids
When you give kids the ability to post anything anonymously on someone else's profile it can bring out their worst instincts.
The promise of anonymity makes people feel it's ok to say things they wouldn't say to someone's face. Sadly, what appears to be happening is that kids are using the platform to gang up on other kids by filling their accounts with hateful, hurtful messages. These messages can be from people they know, or total strangers.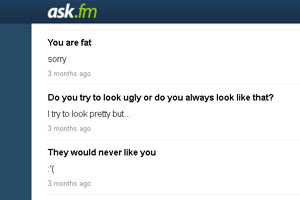 2. Therefore, kids use it to cyberbully
A kids typical experience in ask.fm is that they join for fun, then they are asked some innocent questions but after a while the questions and comments  can become more sinister, sexual or bullying.   This extract from a Daily Mail article explains what a 13 year old girl experienced
"When she looked at her teenage daughter's laptop, it was almost impossible for Caroline Quinn to believe that the vicious words on the screen had been written about her child.
'Slut' and 'anorexic freak' were some of the choice words and phrases which had been posted on 13-year-old Laura's social networking page. Another message, posted in response to a photograph of Laura at a friend's birthday party, spat the vitriol: 'Put some clothes on. I don't wanna see your slutty face on my computer.'
 Laura set up her ask.fm account last November. 'Everyone was doing it and I thought it would be fun,' she says. 'First of all, the questions were harmless things like "who are your best friends?" but it got out of hand after my friend's birthday party.
'My friends and I dressed up — I was wearing hotpants, a red top and trainers — and my friend posted pictures of us on Facebook. People said we looked like sluts and prostitutes. The comments were targeted at all of us, but I'm quite skinny so people called me anorexic. It was horrible.' (Source: Daily Mail )
 The bullying messages typically revolve around body image (you're ugly, anorexic, fat, thin) and popularity (nobody likes you, you're  a loser, loner )
3. And the nasty messages are public
If someone posts a nasty message on someone's ask.fm profile it is visible to everyone which can add to a victims agony and humiliation. Also, Ask.fm is integrated with Facebook and Twitter so it is very easy for people to share to those sites – increasing the visibility of the messages. Even non users of the site can view messages that are posted.
Questions can be quite sexual
When you browse through a few profiles you will come across anonymous questions such as;
What are you wearing?
Do you like thongs?
Are you a virgin?
Do you like sex?
Will you post a selfie pic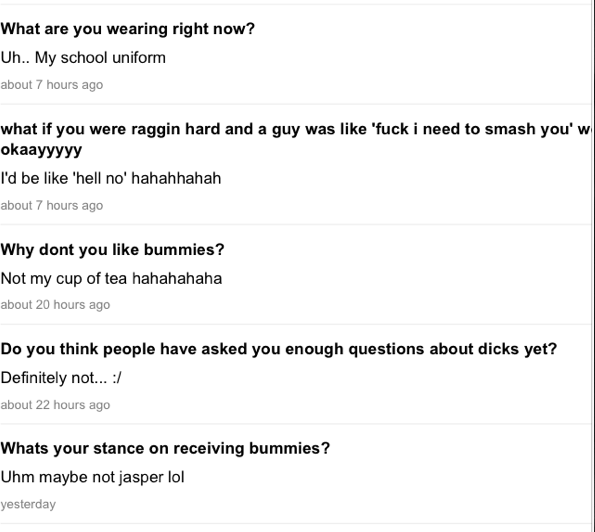 Some questions are more graphic in terms of what someone would like to do to the person.
Next Step: To address these issues parents should learn What should you do to advise and protect your child?
How to Set-Up an Ask.fm Account
How to use Ask.fm
How to understand Ask.fm settings
How to ask a question
How to search for someone
How to advise your child on using Ask.fm
How your child can make their account Private
How your child can change their Password
How to Block a user
How to unfollow a user
How to take a screenshot of what someone has posted
How to monitor what your child is doing on Ask.fm
How to check if your child is on ask.fm?
How to monitor what your child is doing on ask.fm