Twitter is a social media network where you can follow other people and what they post (tweet) will then appear in your twitter newsfeed. When you post something it is called a tweet and it cannot be any longer than 140 characters, around the length of a text message.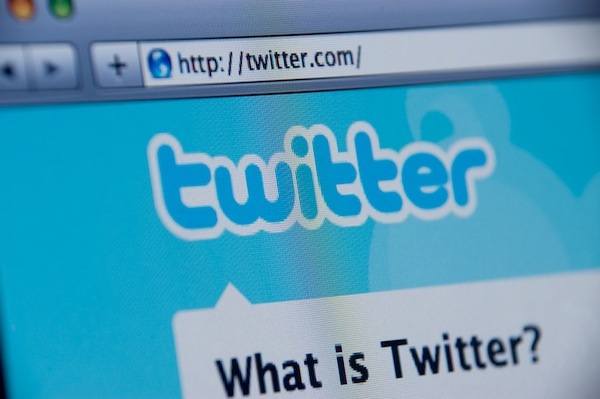 If people follow you, what you post (tweet) will appear in their newsfeeds. In a way it is similar to Facebook in that people tend to post text updates or photos about things that are happening in their life and people can then reply to the tweet or retweet it (like Facebook sharing)
Most celebrities, sports stars, musicians are on Twitter and anyone can follow them and receive their updates. Tweens and teens would follow celebrities (such as Rihanna's Twitter page shown below) but they would also follow friends to keep in touch with them.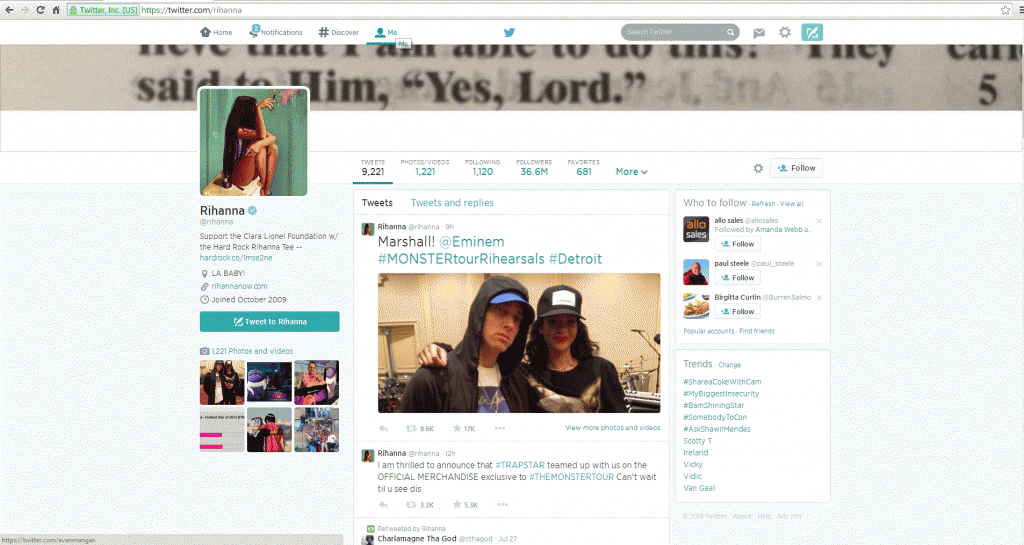 Unless you make your account private, anyone can see your tweets (posts) and anyone can follow you. Therefore, it is far more public than Facebook.
In essence, Twitter can be summarised as
People share 140 character message with people who choose to follow them.
The message can be just text or can contain an image or a link to a video.
Anyone can forward on the message (retweet).
All tweets are public unless you make your account private).
Users can follow anyone who interests them.
In this parents guide to Twitter we will explain why kids like using it, what dangers you need to be aware of and how to advise and protect your child.
What age is it suitable for
There is no age requirement – Twitter doesn't require any date of birth when setting up an account.
Why Do Kids like using it?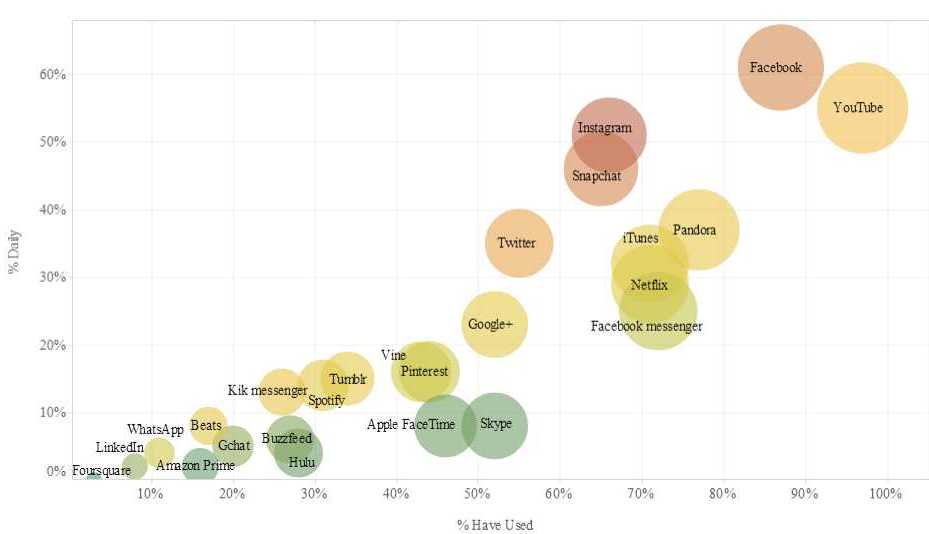 In a 2014 study of teen media usage in the United States they surveyed 7,000 American teenagers to find what their most popular social networks and apps were. Twitter was used by 55% of Teens (compared to Facebook at 85%) and 35% of teens use Twitter daily
Tweens and Teens love using it because;
They can follow / stalk their favourite celebrities and get updates on what they are doing.
They can send tweets to their favourite celebrities in the hope that they answered.
They keep up to speed with friends and keep their friends updated – using it as a free one to many messaging services.
The tweets are short and punchy, ideal for a text message generation.
There isn't a like button so there isn't the pressure to get "likes" as there is on Facebook, where for many teens their self worth is judged by how many likes their updates get.
Facebook is becoming the place where their parents and grandparents hangout. Many parents don't understand Twitter which suits the teenagers.
What dangers do parents need to be aware of?
Twitter is an excellent social media tool and used properly it can be a great source of information and entertainment. However, there are risks for your child on twitter that as a parent you need to be aware of.
1. Easy access to explicit adult content (porn)
Twitter does a very poor job in policing the content of the site in order to restrict access to explicit adult content.
A simple search for tweets relating to "porn" or "sex" will immediately return tweets with explicit images and links to explicit porn websites or videos. If you are in any doubt, simply login to Twitter and search for "sex" and you will see a search result like the one below. All of these lead to graphic images / videos.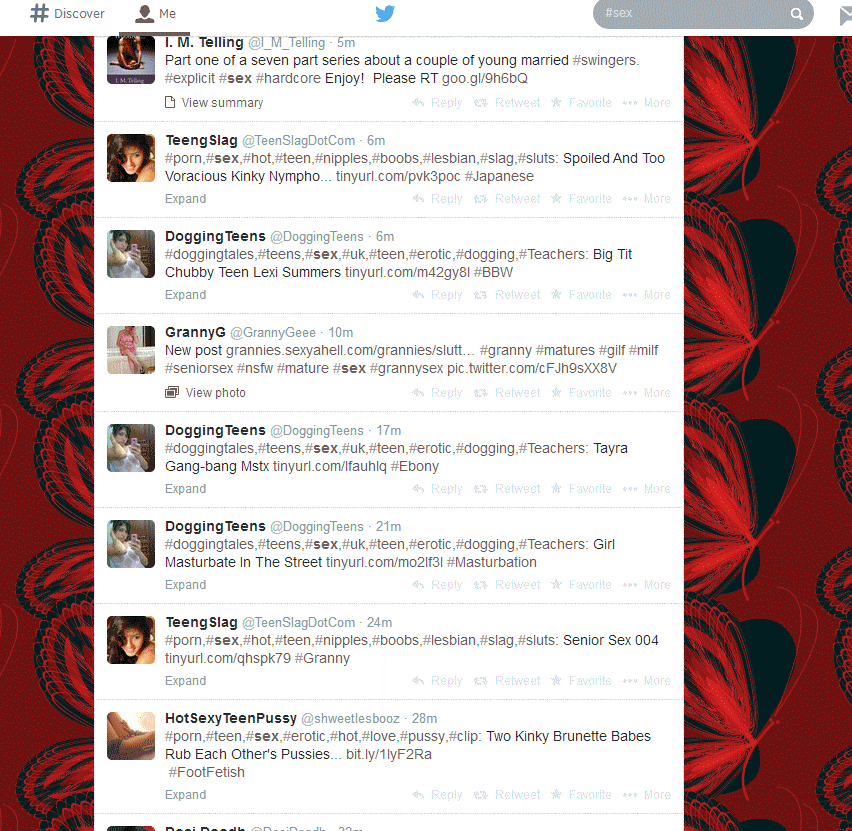 Also, a simple search for #nudeselfie or #sexyselfie will return lots of tweets and Twitter accounts containing images of teenage sexting photos that have now ended up in the wrong hands and are visible for everyone to see. (see our Digital Parenting Guide to sexting )
(Please note that I am not encouraging you to view online porn. Please use your own judgement when deciding what to do. However, if you are totally unaware of what kind of images and links are freely available and could be constantly appearing in your child's Twitter newsfeed then you might prefer to be better informed. Ignorance is definitely not the best policy)
What this means is that your child can easily access explicit adult content on Twitter;
If you teen is following someone on Twitter who decides to share one of these tweets then it will go into your chilld's newsfeed even though they did not go looking for it.
If your teen does the search he or she can then choose to follow these accounts and will receive these updates in their news feed, probably every day.
Be aware that even if you do the following to restrict your child from accessing explicit content …
Setup a content filter on your wifi to block out explicit websites on home PCs, tablets, mobiles.
Setup Google safe search on PCs and your child's mobile.
Install a safe browser on your child's mobile.
He or she will still be able to view the explicit images within Twitter. However, when he clicks on links links to the explicit websites within the tweet, the filters would then block access.
2. Cyber Bullying
Twitter should be a place where your teen can comfortably keep to speed with their favourite celebrities and their friends but unfortunately, there is a harsher side to Twitter.
It is very easy for people to bully on Twitter and if you scan through trending topics that tend to generate lots of tweets you can see some very harsh, aggressive and bullying style messages. The way Twitter works is that if anyone posts a tweets containing your child's twitter username, your child will get a notification and will see the tweet.
Bullying tends to break down into two approaches
1. People using real accounts and then calling someone ugly, loser, fat either through a reply or through an initial tweet. It might also involve posting an unflattering image of someone taken without their permission using a camera phone or it could be an image comparing the teen to a horse or a pig. It could simply be an image of the teen with the word ugly written on it.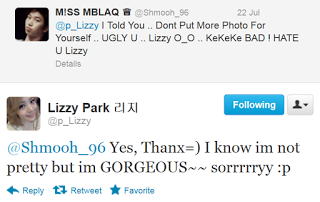 2. Trolls – people who setup fake accounts for the purpose of being aggressive / abusive / bullying. These people go out of their way to be abusive and are looking for a reaction. Realise that anyone can follow your child.
3. Damaging their online reputation
Lots of teens use Twitter to share their teenage angst or to share what they have been up to, how they are feeling and seem to forget that these tweets are totally public and can be viewed by anyone including strangers, teachers and future employers. Sometimes tweets are sent on the spur of the moment or sent because there is a sense that they are talking to their "followers" – however, once they are retweeted they cannot be deleted.
Your child should realise that what is put on the web is permanent and can come back to hurt them. They also need to realise that what is tweeted forms part of their online reputation and can be found by future employers.
4. Sharing too much personal information
Some teens share too much personal information on Twitter such as where they live, their mobile number, their school. This gives strangers and online predators a lot of information to target your child.
Next Step: Parents should learn
How to setup a Twitter account.
How to use Twitter
How to understand Twitter settings
How to update personal profile
How to read and understand Tweets
How to write a Tweet
How to search for Tweets
How to find someone on Twitter
How to advise your child on using Twitter
How to make your account Private
How to change your Password
How to turn off Location settings
How to Block an account
How to Unfollow an account
How to report content
How to take a screenshot of what someone has posted
How to monitor your child on Twitter
How to find your child on Twitter
How to check what your child is posting on Twitter
How to check what is being said about your child on Twitter
How to check who your child is following and what they are seeing
How to check who is following your child