A parents guide to Instagram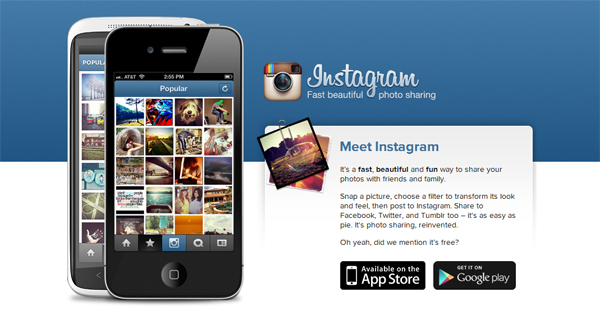 You can take a photo or a 15 second video using the app and then apply cool filters and effects to the photo / video (to make it look retro or more colourful). Because it's a social network you also have friends and a newsfeed. When you post your photo or video it will then appear in your friends newsfeed and when they posts photos or videos it will appear in yours. Users can comment and "like" a post.
Teens take photos of things they see, selfies showing what they are wearing, photos of their pets, photos of their friends messing around.
Most celebrities, sports stars, musicians are on Instagram and anyone can follow them and receive their photo and video updates. Tweens and teens would follow celebrities but they would also follow friends to keep in touch with them.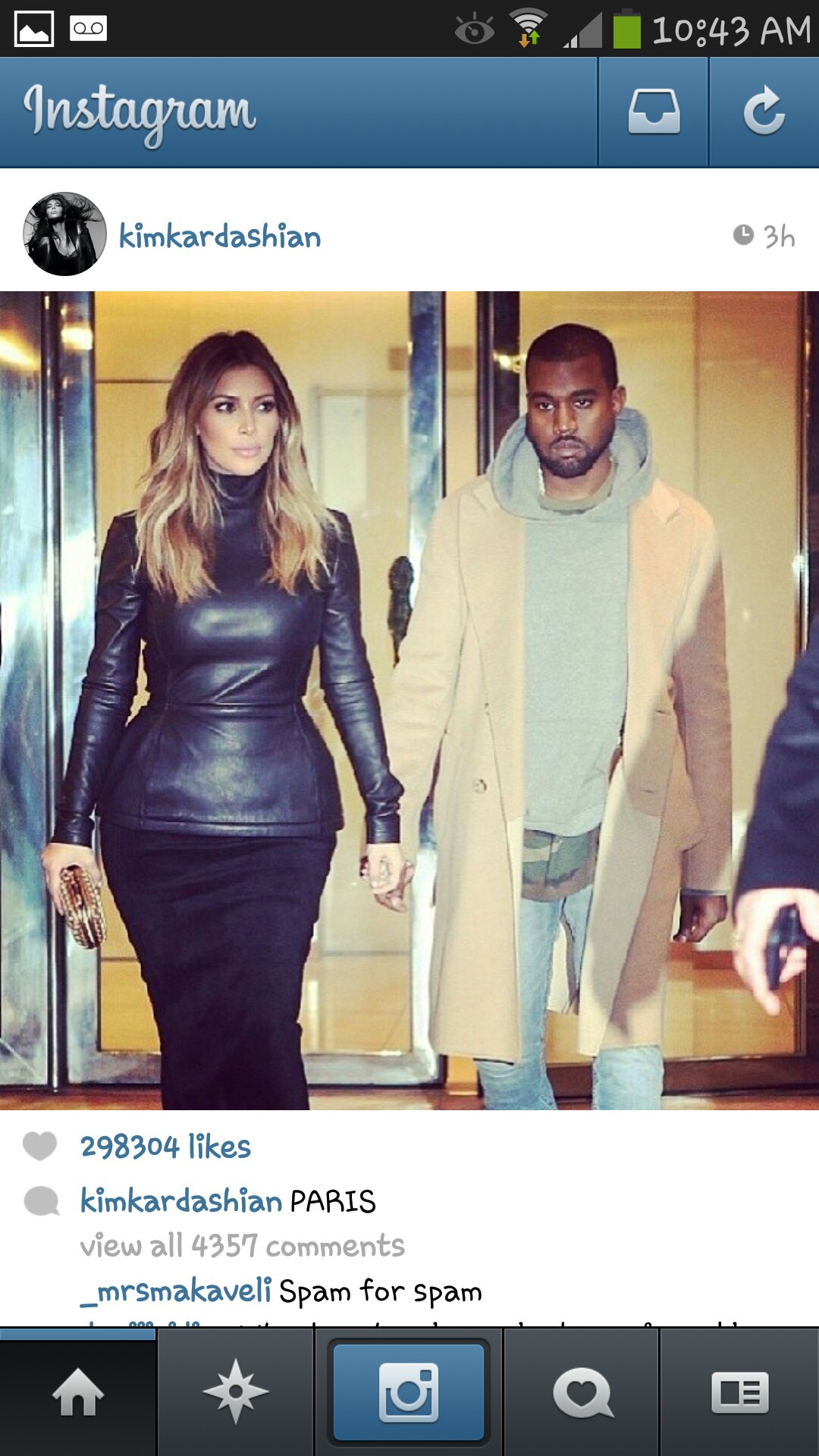 Unless you make your account private, anyone can see your Instagram posts and anyone can follow you. Therefore, it is far more public than Facebook.
In essence, Instagram can be summarised as
People a photo or 15 second videos using their smaprtphone and apply a cool filters to it. They then write a short message to accompany the image, including some hashtags. They can also "geotag the image to indicate where it was taken
They then send it out to either

The people who are following them and it goes it into their newsfeeds
Or to a select group of users that they choose (This is called Instagram Direct)

Followers can like and comment on the image.
All images / videos sent to followers are  public and can be found by searching, unless you make your account private)
Users can follow anyone who interests them so anyone can follow you and view all your images / videos unless your make your account privatehttp://shaneflynnfitness.com/
In this parents guide to Instagram we will explain why kids like using it, what dangers you need to be aware of and how to advise and protect your child.
What age is it suitable for
You need to be aged 13 to signup for Instagram. However, many tweens signup for it giving a bogus date of birth
Why Do Kids like using it?
In a 2014 study, they surveyed 7,000 American teenagers to find what their most popular social networks and apps were. Instagram  was used by 65% of Teens (compared to Facebook at 85%) and over 50% of teens use Twitter daily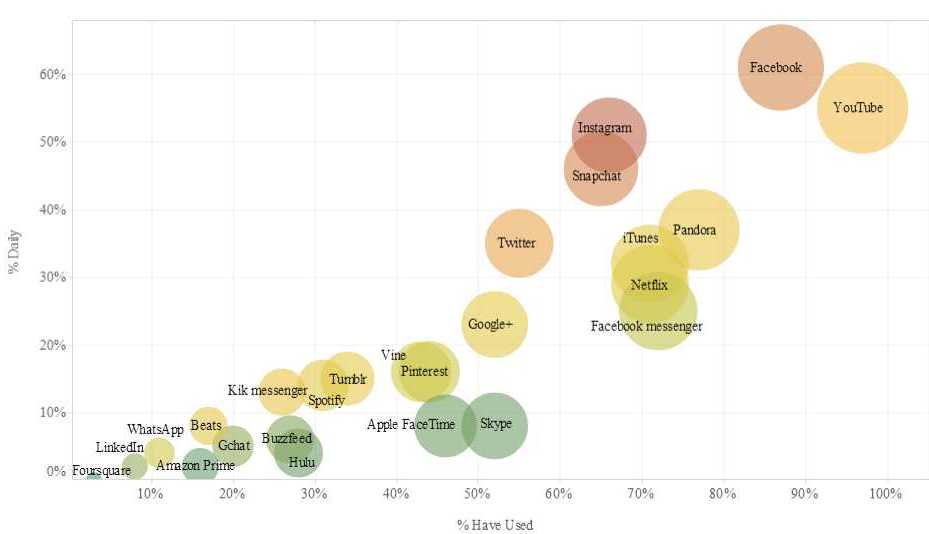 Tweens and Teens  love using it because;
It's a fun and creative way of taking selfies /  photos of friends / what they are eating / what they are wearing / what their pets are doing /  and applying filters and effects to them.
All the updates are visual so it's a great way to express their identities and their "style"
They keep up to speed with friends and keep their friends updated with what's going on
They can follow / stalk their favourite celebrities and get updates on what they are doing
They can comment on their favourite celebrities updates
Facebook is becoming the place where their parents and grandparents hangout. Most parents don't understand Instagram which suits the teenagers.
 What dangers do parents need to be aware of?
Instagram is a hugely creative and fun environment for teens but given that they are sharing photos and videos taken on their smartphones there are risks that  you should be aware of as a parent.
Being cyber bullied and victimised by classmates
Other teens posting compromising photos or videos of your child taken at school
Your child posting photos or information that could damage their online reputation
Your child sharing too much personal information and having a public account that leaves them vulnerable to being targeted by strangers
Young teens being exposed to inappropriate content
1. Being cyber-bullied
We have all heard of cyber bullying but what exactly does it mean? Cyberbullying on Instagram doesn't mean someone being criticised or put down as a once off event or a very occasional event. When someone is cyberbullied it means that they are regularly and consistently being criticised or mocked for their looks, weight, intelligence, style, grades, popularity and so on.
On Instagram this bullying can take the form of;
A bully could create a fake account pretending to be your child and then post nasty or abusive comments which people think your child is making. Also, the bully can upload unflattering photos of your child to this account and it looks like your child is posting these photos.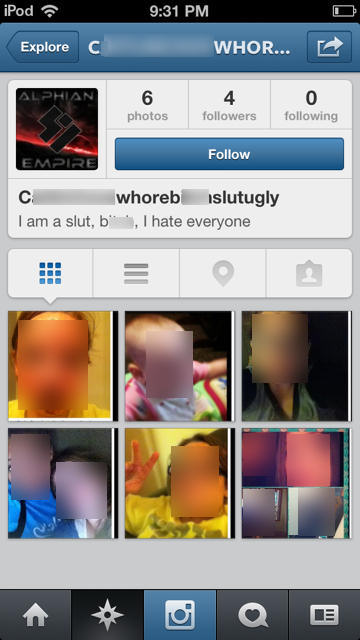 A bully takes a photo of your child and writes a caption such as "ugly" or "fat" or "loser" on the photo and then posts it out on Instagram for everyone to see. The bully can also tag your child by adding the your child's name in the "add person" section when posting. ( Note – if the bully is not following your child, then your child will not get notified about the photo and wont see the phot – but all of the people following the bully will see. This can result in your child being humiliated without knowing it and wondering why classmates are laughing at him)
A bully finds a photo of an ugly  animal and sends it out with a message that says "this reminds me of @yourchildsname " and tags your child on it.
A bully writes a horrible comment on a photo that your child has posted. For example if your child posts a selfie, bullies would jump in and comment "you're too ugly for Instagram" or "when are you going to lose some weight?"
A bully sneaks up from behind and slaps your child around the head ("happy slappy" ) while an accomplice videos it. The video is then posted on Instagram to embarrass your child
Examples of Bullying on Instagram
These are quotes from teenagers who related their experience of being bullied on Instagram to the the www.cyberbullying.us website
"Last year I got an Instagram account made about me. The got pictures off my Instagram and posted it on theirs. I was being called a w****, s***, and a b****. I was so upset, that I self-harmed. But then I realized that I had to stay strong so I stopped. Then on may 2 I got 4 more made about me and doing the same thing except calling me a lesbian. This time I got help, and it got taken down. From this day police are still trying to find out who made the account. Stay. Strong." 13 year-old girl
"I am 18 years old. This year on the 2nd week of school, I parked my car crooked. A girl in my class took a picture of it and put it on Instagram stating that I couldn't park because I was deaf. That picture circulated. A boy in my class posted on twitter the next day "Tomorrow is national Park like a Retard day. AKA park like "MB day". The next day 30 cars parked crooked in the school parking lot. I went to the office and told my principal and he put parking tickets on their windows. My name was all over twitter and Facebook and everyone tried to make an a** out of me." ~ 18 year-old female
"I posted a picture of myself on Instagram and people started commenting these awful things like "Eww ur so ugly" "Why don't you go kill urslef everyone would be happier that way" And I KNOW these people…they go to my school. I cried for a good 2 hours. But this wasn't the first time this has happened on all my pictures at least 3 people say something like that. I'm never going on Instagram again. I wish I could disappear so I don't I have to go to school." ~ 12 year-old girl
2.Inviting Stanger danger – Your child sharing too much personal info or having an open account
Lots of teens give away too much information about themselves on Instagram which exposes them to being approached or groomed by strangers. These includes
Leaving their account public. When your child's account is public anyone can see all the photos and videos your child is taking of herself. While this might not concern your child, you might not want strangers having access to all of this material. You should advise your child to make his / her profile private so that only people that she approves can follow her and see her content.
Many teens post far too much information on their profile page (which is usually public) and this often includes first name, last name, birthday, phone number and email address. Teens should always avoid using their real names and never post thei phone number or email address for strangers to see.
Many teens also post their skypeusername, facebook address or Kik messenger nickname on their profile. This enables strangers to approach and message your child.
Many teens geotag their photos which means that the location that the photo was taken appears on a map. This means that strangers can see where they live.
Read our digital parenting guide to online grooming which explain in detail the dangers of sharing too much information and personal photos on social media.
3. Young teens being exposed to inappropriate content because they are friends with much older  teens or follow "accounts" that share inappropriate content
If your thirteen year old has joined Instagram and has 200 friends, do you know who those friends are? Teens are quick to friend anyone and their popularity is often judged by the number of friends they have on Instagram.  It is very possible that they have "friends" who are 18-19 years old with their updates going into your child's newsfeed.
However, what a typical 18-19 year old shares on Instagram is inappropriate for a 13 year old as it would be very typical to share nude images, adult humour etc. Also, there are lots of "accounts" on Instagram that have been setup to share photos on a particular topics and once your child follows this account all the images posted by that account will appear in your child's newsfeed. There are many accounts which post daily sexting  / semi nude images
Instagram used to have a poor reputation for having explicit adult content but they seem to have taken it seriously recently. It is no longer as easy as it is on Twitter or Tumblr to stumble across or "follow" highly explicit / adult content. However,  if your child is 13 – 14  you might not want him/ her to follow accounts that share lots of semi nude sexting style images.
 4. Damage to a childs self esteem
This can happen in a number of ways such as;
a)  Other teens posting a photo of your child asking others to rate their looks
There are "Hot or Not" style beauty contests on Instagram where someone puts 4-5 photos of girls / boys  in a collage, each with a number overlaid on the image. He then  asks his followers  to vote for the most attractive. The person with the least votes gets eliminated in round one and then it progresses to round 2 for more voting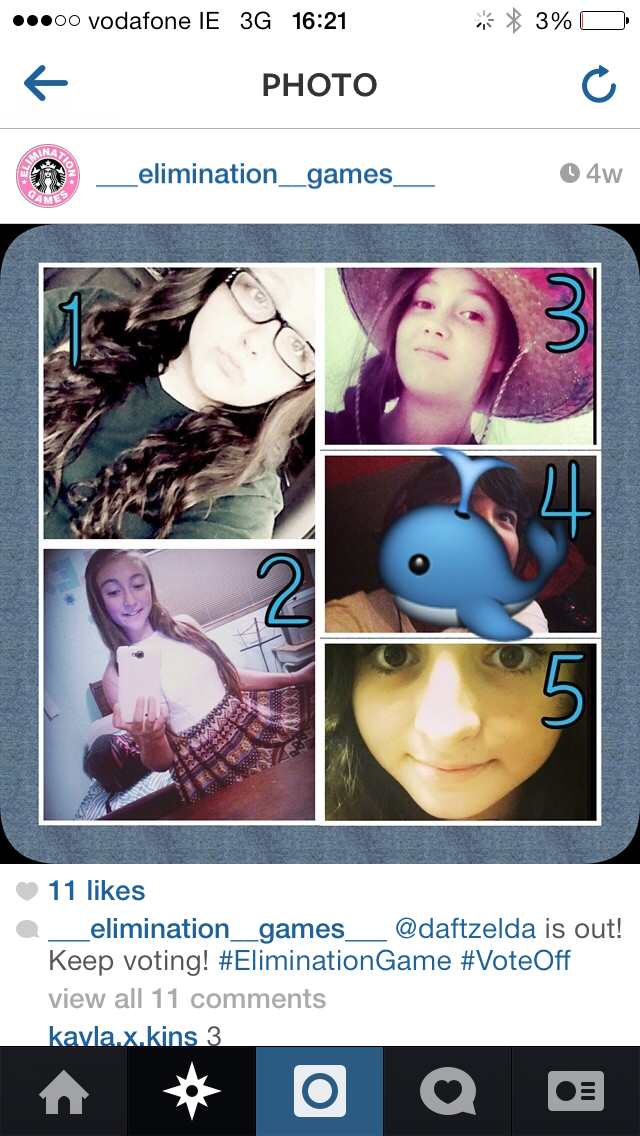 If your child's photo is put on one of these without his / her knowledge it can be upsetting.
2. Your child decides to post photos and asks people to rate her / him
Another trend on Instagram is for kids to proactively ask their followers to "rate them" on a sliding scale where the options are posted in a graphic such as these examples. This then goes out to all of the kids friends and strangers who are following the kids. This is done in the hope that they will get ratings but not everyone does.
In the example below you can see the first post is asking followers to rate the sender and in the comments you can see some of the ratings she received from the people following her.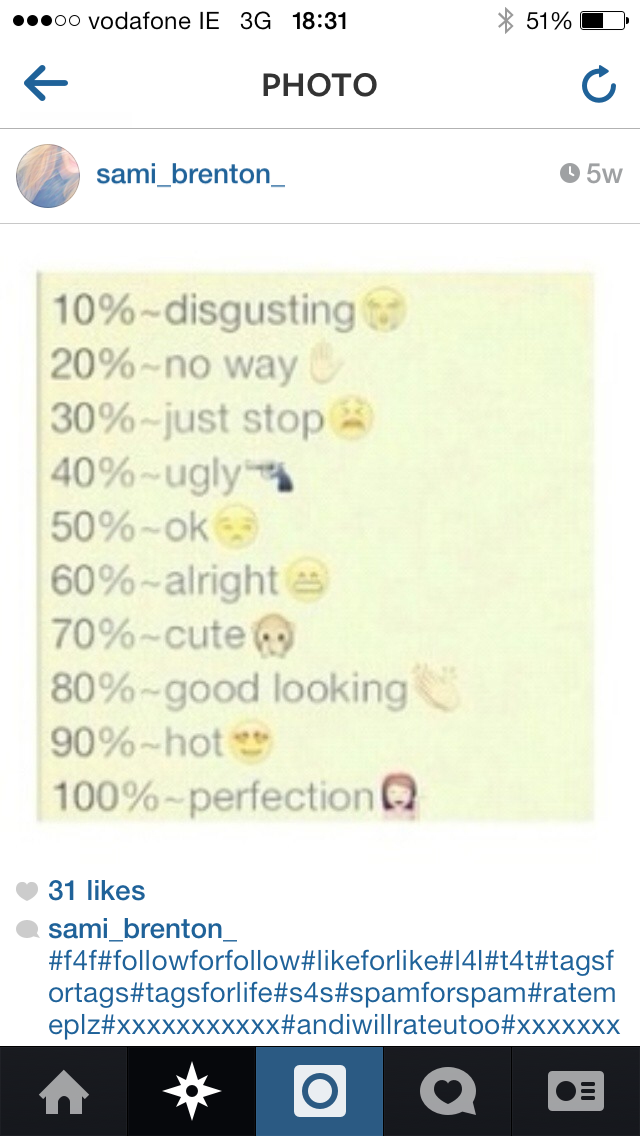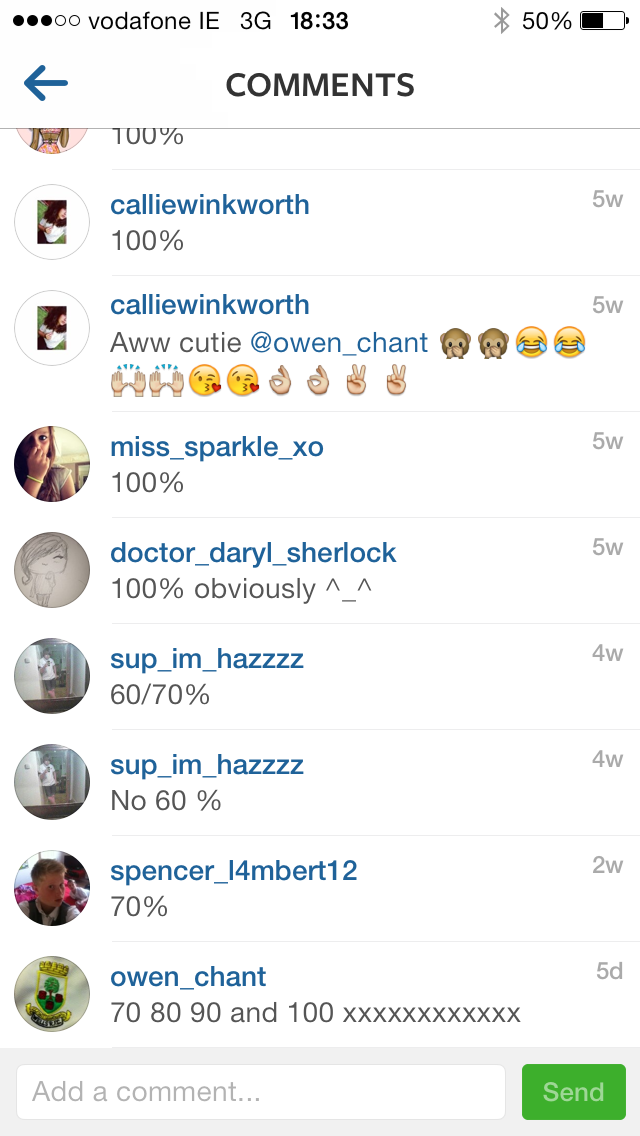 Next Step: Learn how to advise and protect your child on Instagram
How to setup an Instagram account
How to use Instagram

How to use the menu options
How to post on Instagram
How to tag someone on Instagram
How to find someone on Instagram
How to search for a topic on Instagram
How to advise your child on using Instagram
How your child can make their account Private
How your child can change their Password
How to Block an account
How to Unfollow an account
How to report content
How to untag yourself from an Instagram photo